Relationship and Sex Education
SRE Policy Rationale
At Temple Meadow, we understand the importance of educating pupils about sex and relationships, in order for pupils to make responsible and well-informed decisions in their lives.
We aim to:
To nurture a responsible attitude towards personal relationships including aspects of mutual respect and care
To develop sensitivity towards the needs of others
To provide knowledge of loving relationships
To teach the fundamentals of human reproduction (through science and health visitors/practitioners)
To inform children on matters of personal hygiene and related health issues
To empower children to make informed choices about relationships.
The DfE's guidance, 'Sex and Relationship Education Guidance', defines this programme as: "Learning about physical, moral and emotional development; understanding the importance of marriage for family life, stable and loving relationships, respect, love and care. It is also about the teaching of sex, sexuality and health."
The SRE programme will be taught objectively and does not intend to promote any form of sexual orientation.
The sex education and relationship programme gives an opportunity for pupils to:
Develop an understanding of sex, sexuality and relationships.
Develop a range of appropriate personal skills.
The aims will be achieved through developing an understanding of:
A range of values and moral issues including the importance of family life.
The biological facts related to human growth and development, including reproduction.
The importance of healthy relationships.
Legal framework and links to other policies
This policy is compliant with the following guidance:
DfE 'Sex and Relationship Education Guidance' 2000
DfE 'Science programmes of study: key stages 1 and 2' 2013
DfE 'Science programmes of study: key stage 3' 2013
DfE 'Science programmes of study: key stage 4, ' 2014
This policy will be implemented in conjunction with the following school policies, documents and procedures:
Science element of Teaching and Learning Policy
Learnig for Life element of Teaching and Learning Policy
Curriculum Statement
Health and Safety Policy
Staff Handbook
Safeguarding Policy.
SRE programme of study
The majority of the programme is delivered through the Learning for Life education, with statutory aspects taught via the science curriculum.
At Temple Meadow our Protective Behaviour strand of our Learning for Life curriculum includes naming of body parts appropriately as this supports the 'my body' sense of ownership that empowers children to speak out when anything concerns them regarding their Early Earning Signs.
At key stage 1 and key stage 2, the topics are broken down into specific areas that are taught appropriate to pupils' ages.
Elements of the topics for key stage 1 and 2 are statutory in accordance with the science national curriculum and therefore must be taught.
EYS SRE curriculum

KS1 SRE curriculum

KS2 SRE curriculum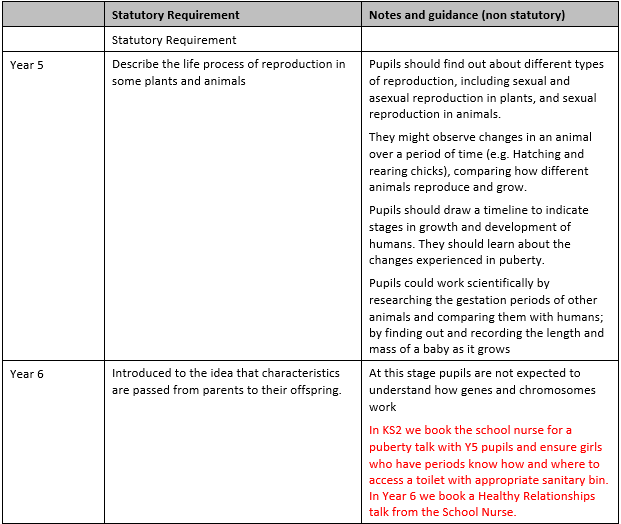 Protective behaviours
Is a whole school approach to pupils being empowered about their bodies and knowing their early warning signs when things are not as they expect. Part of Protective Behaviours that runs through the school from Nursery to Year 6 ensures body parts are named appropriately; i.e. linked to biological names.
Equal opportunities
In support of the equal opportunities policy, all pupils will have the same opportunities to benefit from the SRE resources and teaching methods, regardless of age, ability, sex, religion or race.
Role of parents
We are well aware that the primary role in children's sex education lies with parents and carers. We wish to build a positive and supporting relationship with the parents of children at our school through mutual understanding, trust and co-operation.
In promoting this objective we:
inform parents about the school's sex and relationship education policy and practice;
answer any questions that parents may have about the sex and relationship education of their child;
take seriously any issue that parents raise with teachers or governors about this policy or the arrangements for sex and relationship education in the school.
Parental right to withdraw a child from SRE sessions
SRE sessions in Y5 and Y6 are carried out by health professionals (such as the School Health Nurse) with the class teacher present. Notification will always be sent to parents in advance of such lessons. Parents have the right to withdraw their child from all or part of the sex and relationship education programme provided at school except those parts included in the statutory National Curriculum. If a parent wishes their child to be withdrawn from lessons, they should discuss this with the Head teacher, and make it clear which aspects of the programme they do not wish their child to participate in. We ask this to be put in writing.
Arrangements will be made for the children who have been withdrawn.